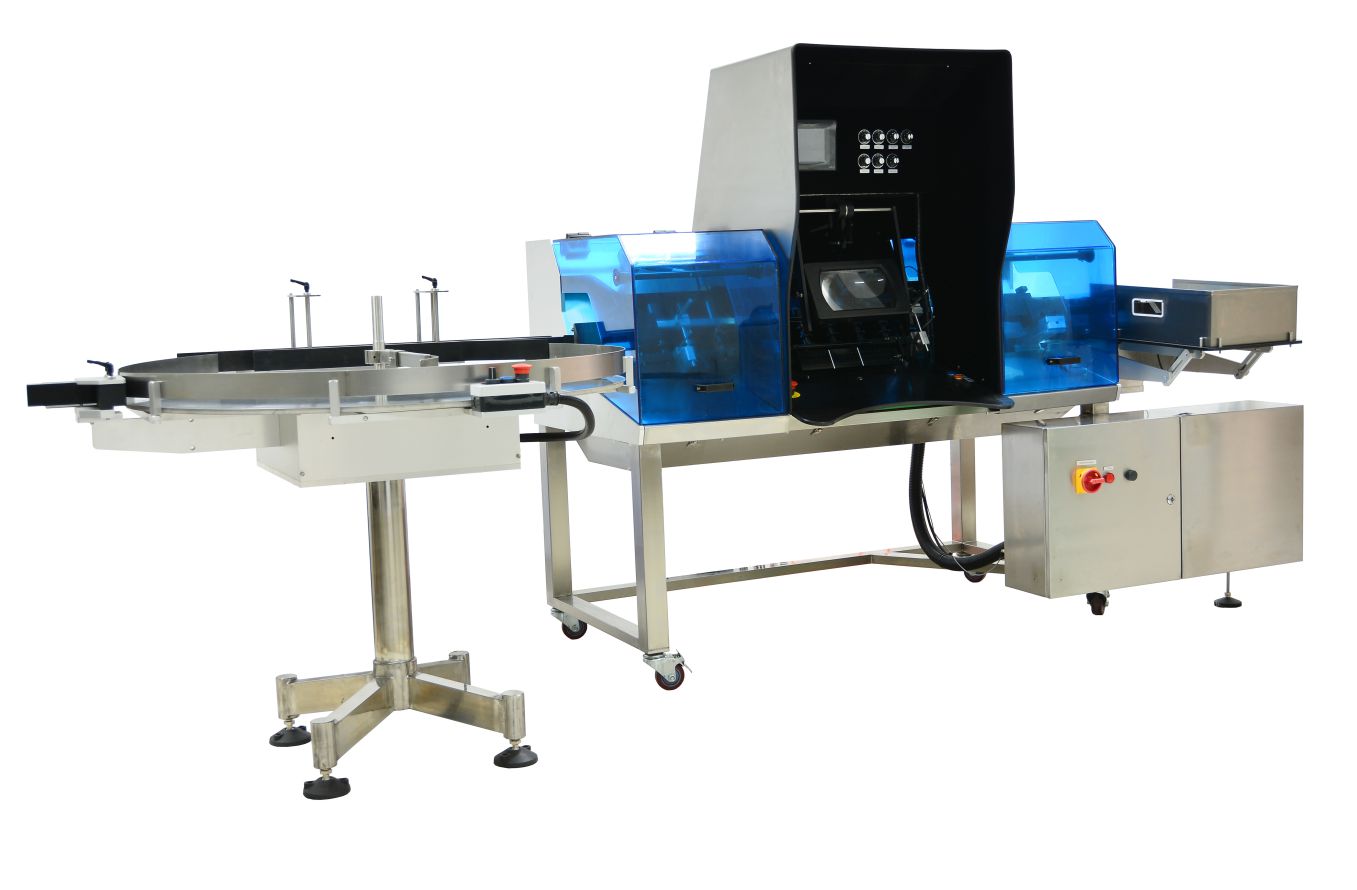 Inspection Machine Model YJ-90B For Infusion Bottles
YJ-90B is used to inspect infusion bottles and other big injection bottles.
Mode of operation:
Product bottles are supplied from feeding system and aligned in order on the inspection rollers. The inspection machine has two independent driving system, they are conveying system and rotating system. The conveying system makes the rollers carry bottles and move forward. Meanwhile, the rotating system make the rollers self-rotating along with itself, and simultaneously the bottles on the rollers will be self-rotating accordingly, the high-speed self-rotation will whirl up the particulate in liquid. When the bottles pass the dark inspection cabin in front of operator, concentrated light beam from halogen lighting system refracts off the particulate and make it glow like a small light bulb to reach Tyndall effect, which makes any particulate more easily visible. Furthermore, the inspection machine is completed with mirrors and magnifying lens, these facility support the operator and permits the inspection of the entire outer surface of the product, so that micro-fissures and cosmetic defects can be detected in the bottom, shoulder and cap area. Defect products could be removed by online automatic reject system, qualified product and defect product will enter into separate channels.
Adcantages:
1.It increases the production capacity and reduces operator's fatigue.
2.It can be used to inspect vials, infusion bottles, cartridges and etc..All sizes between 50 and 1000 ml
3.Various kinds of products like solutions, antibiotics, suspensions, eye drops, freeze dried products can be inspected.
4.Several criteria can be inspected simultaneously, such as particulate matter, glassware defects, bottom, shoulder and cap area, micro-fissures.
5.By adopting Tyndall principle, the contrast of impurity particle is intensively enhanced under the concentrated light beam and the impurity can be detected very easily and quickly.
6.Adjustable cold lighting system combined working with mirrors and magnifying lens make the inspection more efficient.
7.Conveying speed and rotating speed are separately controlled and both speed could be variably adjusted
8.Color temperature, intensity of illumination and angle of illumination can be adjusted to optimize visual effect.
9.Advanced control system and touch screen provide friendly human-machine interface.
10.Various counting functions are available, i.e. count of Infeed, count of outfeed, count of rejects.
11.Change-over is simple & quick without using tools, machine cleaning & maintenance is easy.It can be connected with other equipments to make up a production line.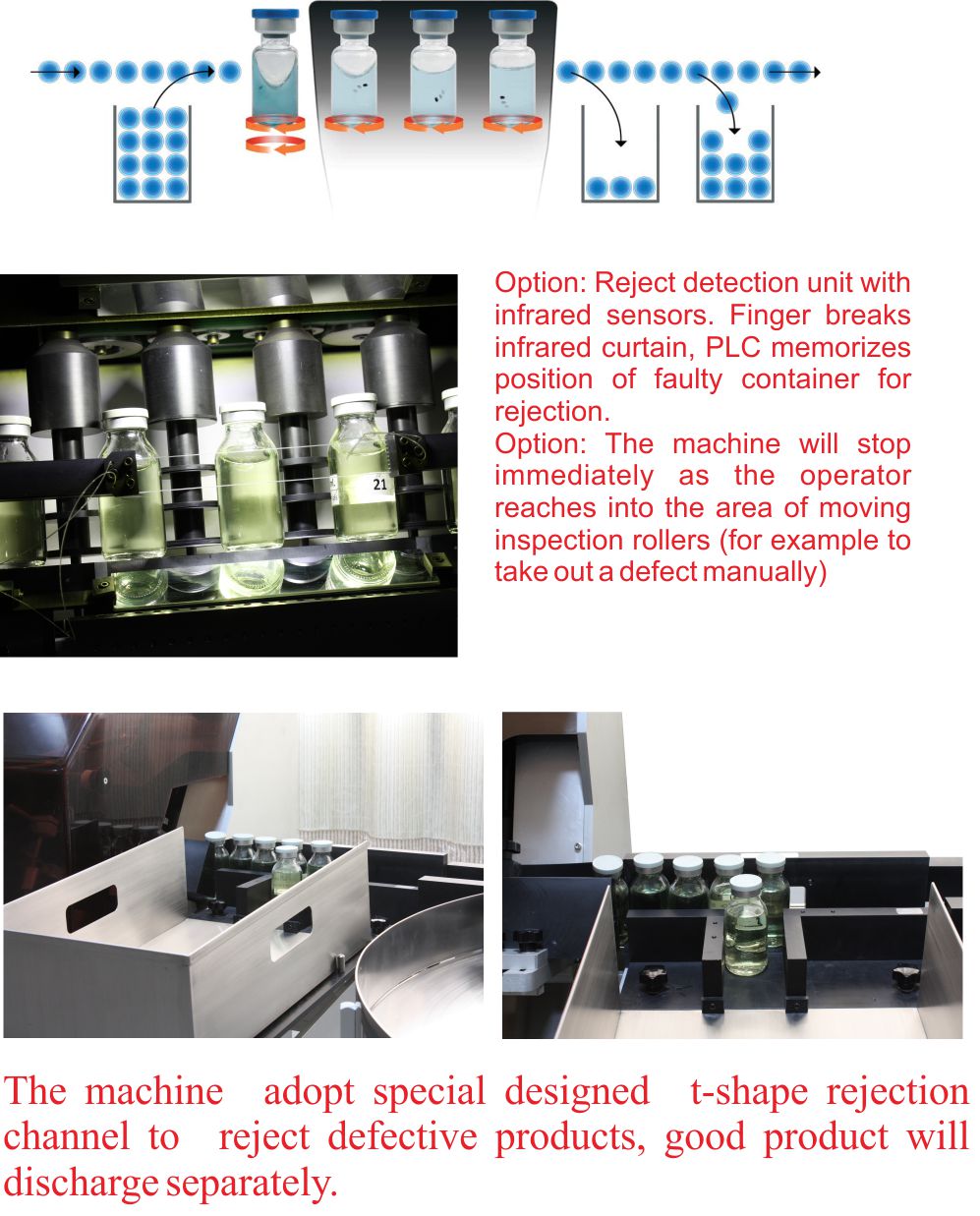 Technical:
| | |
| --- | --- |
| Application: | infusion bottles |
| Operators: | one |
| Output: | Max. 100 objects/min/lane |
| Mode of operation: | Continuous or intermittent (switch) |
| Voltage: | 220 V, 0.8-1.4 kW, 50 Hz standard; all desired voltages possible |
| Dimensions: | 4300 x 1700 x 1700 mm |
| Weight: | 450KG |